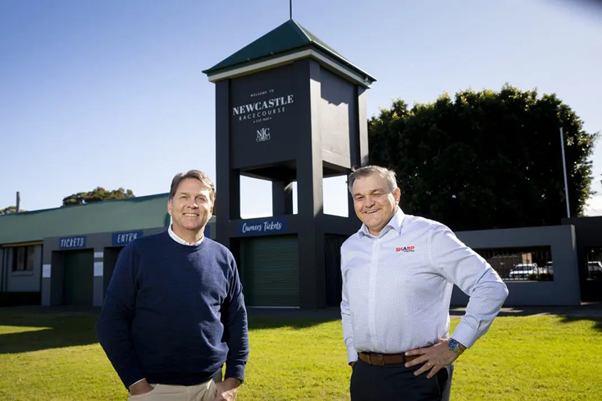 https://newcastleweekly.com.au/newcastle-jockey-club-secures-new-sharp-deal/
In a huge vote of confidence for the continued growth of local thoroughbred racing, the newly-named Sharp Office – formerly Sharp Electronics Group – has extended its major sponsorship with the NJC through to 2026.
The latest pact takes the company's affiliation with the organisation and Spring Carnival to nine years, which is a massive boost in the current financial climate.
"It's an outstanding relationship between two Newcastle icons," Benson said.
"When Sharp signed up in 2018, we were delighted to have a leading local business embrace a major sponsorship of the club.
"It is a credit to the commitment of both organisations to our partnership that Sharp approached us to extend the deal.
"We couldn't be happier working so closely with such a professional and supportive team."
The announcement comes hot on the heels of Sharp Office's recent brand re-launch that coincided with its 50-year anniversary since establishing the business in Newcastle.
"It [the branding] reflects the range of services we provide," managing director George Tuntevski said.
"So, we wanted to celebrate this pivotal moment by extending our significant backing of the NJC.
"On re-branding, we reflected on our key partnerships.
"We agreed it was a perfect time for us to reinvigorate our support of the Newcastle Jockey Club with a five-year extension of our current deal.
"We can also update our presence around the track and into the upcoming Spring Carnival.
"Our relationship with the NJC has been a real win-win.
"We not only sponsor the club, we provide it with its printing/copier needs, stationary and the Senpos point of sale system used throughout the facility, too.
"It's brilliant when both parties have such positive strategic outcomes and is so mutually beneficial."
The Newcastle Jockey Club will host its next meeting at the Broadmeadow circuit on Tuesday 20 July.
Meanwhile, the Sharp Office Newcastle Gold Cup Race Day is scheduled for Friday 17 September, which kicks off the Australian Spring Carnival calendar.
Three Group 3 races and more than $500,000 in prizemoney will be on offer.
The Newcastle Jockey Club chief executive Matt Benson and Sharp Office managing director George Tuntevski. Photo: Peter Stoop