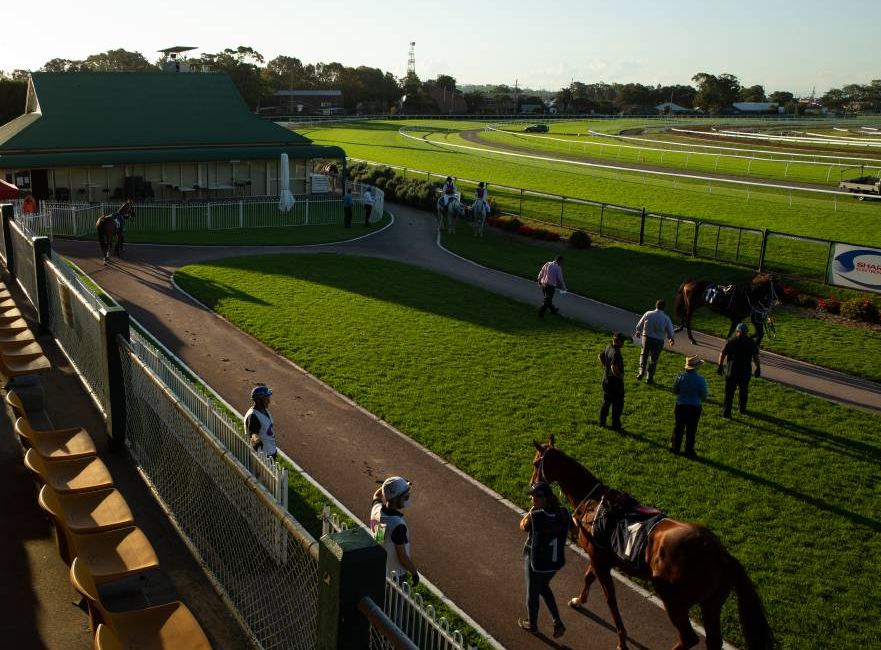 https://www.newcastleherald.com.au/story/7768209/newcastle-racecourses-synthetic-training-track-upgrade-welcomed/
Leading trainer Kris Lees said a $3 million conversion of the Newcastle Jockey Club's synthetic all-weather training track, which started on Monday, was a terrific result for local stables. The NJC and Racing NSW are funding the project at Newcastle Racecourse which will involve the removal of the Pro-Ride track material and replacing it with the widely used Polytrack. The Polytrack surface, a mixture of silica sand, recycled carpet, spandex and rubber fibres covered with wax, is expected to be down in eight to 10 weeks.
NJC chief executive Duane Dowell said the club would reuse about two-thirds of the Pro-Ride material, which consists of a polymeric binder with sand and fibres, to seal walk-back sections between tracks. The rest would be sold.
Dowell said the NJC were contributing $1 million to the project and Racing NSW were providing the rest. "All the other provincial clubs have got one, and we were last in line to get a Polytrack, and the feedback from the other clubs has always been very positive about these tracks," Dowell said. He said trainers had lost confidence in the firmer Pro-Ride surface, despite a $250,000 investment from the NJC about two years ago to improve it.
He hoped trainers would take advantage of the new all-weather surface for trackwork, allowing the two grass courses at Newcastle to be saved more for race days.
"What they have found at the other clubs is that the Polytrack can be used for fast work, so it's taken a fair bit of traffic off the grass surfaces," he said.
"Less use of the grass surfaces is obviously better for recovery of the grass tracks."
Lees, the biggest user of the Broadmeadow tracks, was critical of the Pro-Ride and welcomed the change.
"It's terrific," said Lees, who was third in the Australian trainers' premiership with 150.5 winners this season before Monday's meetings.
"We've been waiting a long time for it, but it probably comes quicker now than what we were thinking a few months ago, so it's very pleasing. "Especially during these times of unusual weather patterns, it's a consistent track all year round. "You've seen that in some areas they race on it, so it's a forgiving surface. You can't substitute grass by any means, but it will help us get by in tougher times and it's a great tool. "It will get a lot of traffic.
"Our sand track has been wonderful for the last three or four years, since the Pro-Ride has pretty much been out of action, but it's a tighter track and hasn't got the same width, so the sand has been a very congested track. "This will alleviate a bit of pressure off it and work well for all."
The NJC's sand track and two grass tracks will be available for training during the construction period. Meanwhile, the Beaumont grass track will not be raced on again until October at the earliest because of remedial work.
The inside Beaumont track, which is used primarily for country-level meetings once held at Cessnock, has hosted six race programs since October last year. That came after 20 months without a meeting on the surface because of a worm infestation and other issues.
Dowell said the Beaumont track was not ready for racing and work had been carried out to improve drainage.
"It had some work done on it on the inside half with sand grooving to break up the profile," he said.
The June 20 meeting scheduled for the Beaumont track has been shifted to the course proper at Newcastle, while the next two will be moved to likely Scone or Muswellbrook.