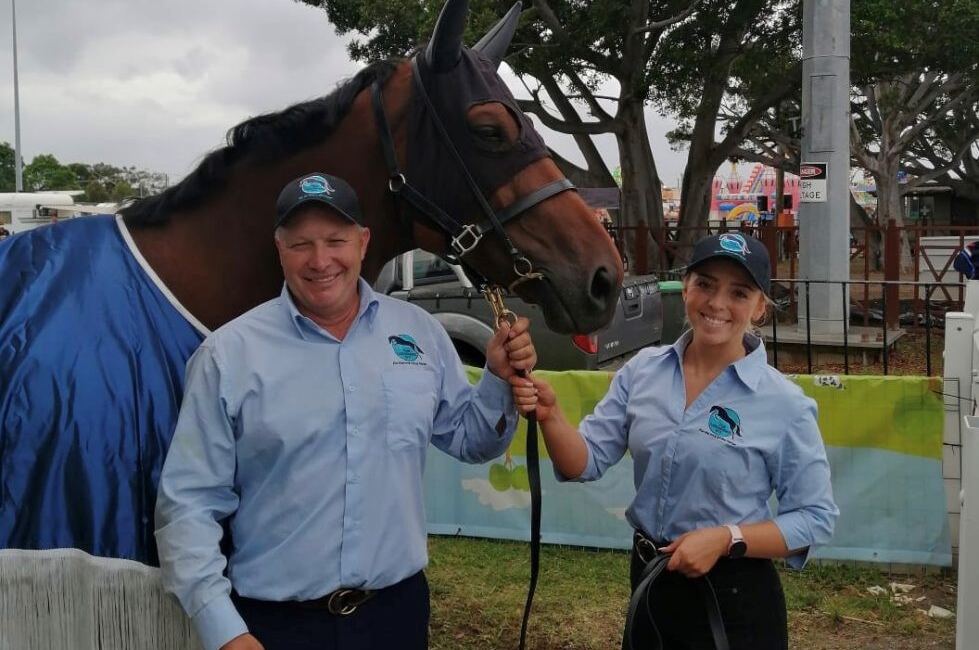 By Julieanne Horsman
While Happy Clapper is famous for his impressive Group 1 victories at Royal Randwick, Newcastle was also a happy hunting ground for the people's horse. He raced there twice for a win in the 2017 Group 3 Newmarket Handicap and a 3rd in the 2013 Group 3 Spring Stakes – his first stakes placing.
Over the weekend, the now ten-year-old gelding returned to the City Of Steel, not to race but as a celebrity guest at Newcastle Regional Show. It was his first public appearance since retiring from racing in April 2020 and there was no shortage of old and new fans lining up to snap a selfie and give him a pat.
Despite the unfamiliar environment and sounds of a busy carnival, Happy Clapper was on his best behaviour and lapped up the attention. He looked every bit the $7.3million-winning champion the racing public had come to know and love.
Draped in a blue silk rug, Happy Clapper represented Racing NSW's equine welfare and rehoming division, Team Thoroughbred NSW, which now cares for the legendary galloper. When time was called on Happy Clapper's stellar racing career, trainer Pat Webster and owner Michael Thomas made the decision to retire him to Team Thoroughbred NSW's Sydney facility, Bart's Farm (formerly Princes Farm.) It's one of four properties owned by Racing NSW for the purpose of caring for and retraining retired racehorses and those who didn't make the track. Happy Clapper shares a paddock with fellow Group 1 winner and dual Everest winner, Redzel, while His Majesty and Stampede are just over the fence.
The appearance at Newcastle Regional Show marks the completion of Happy Clapper's transition from racehorse to off the track Thoroughbred. Unlike most of the other retired racehorses at Team Thoroughbred NSW, Happy Clapper is not available for adoption. Instead, he will continue as an ambassador for life after racing.
Happy Clapper fans can look forward to seeing him in Sydney over the Autumn Carnival and at other community events in years to come.
https://teamthoroughbred.com.au/2021/03/08/happy-clapper-on-show-at-newcastle/
Photo: Happy Clapper with Team Thoroughbred NSW staff members, Jeff and Clare.